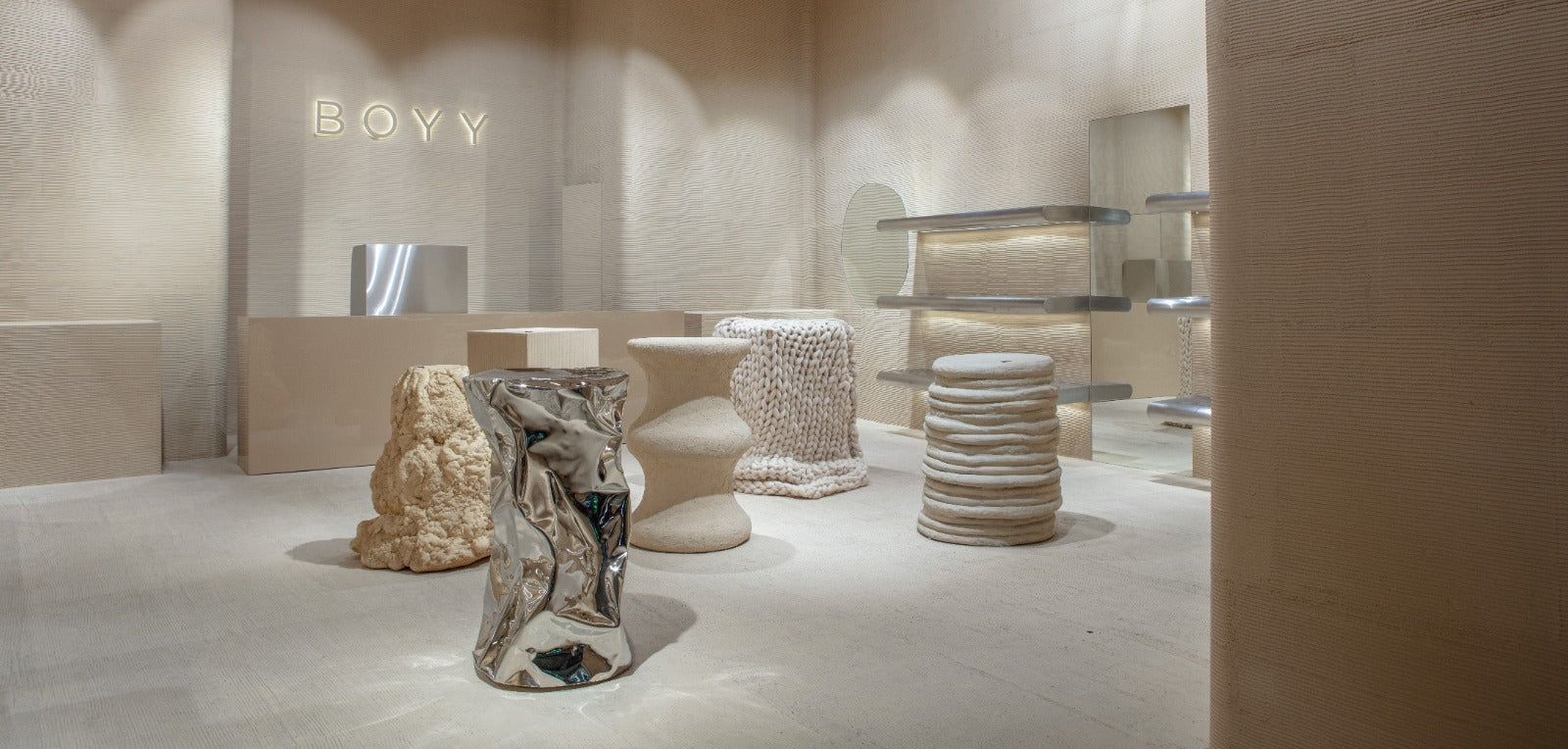 BOYY UP IS A NEW DESIGN INITIATIVE SET FORTH BY FOUNDERS JESSE DORSEY AND WANNASIRI KONGMAN. AT ITS CORE, BOYY UP IS AN EXPERIMENTAL APPROACH TO CREATIVITY AND DESIGN - WORKING WITHIN IMPOSED BOUNDARIES TO PRODUCE LIMITLESS EXTRAORDINARY RESULTS. BOYY UP IS ONE WAY IN WHICH BOYY IS CREATIVELY SEEKING TO MINIMIZE ITS ENVIRONMENTAL IMPACT, AND TO CREATE LONG-LIFE WONDROUS PRODUCTS THAT STIMULATE AND INSPIRE.



MANDATE


NO RESTRICTION WILL BE PLACED ON CATEGORY OF DESIGN. BOYY UP MAY FEATURE PRODUCTS AND CREATIONS WELL BEYOND BOYY'S CORE BUSINESS OF HANDBAGS AND ACCESSORIES.

INPUT MATERIALS USED FOR BOYY UP DESIGNS MUST COME FROM BOYY'S INVENTORY OF STOCK FINISHED GOODS AND / OR PREVIOUSLY PURCHASED RAW MATERIALS ONLY.
ALL DESIGNS MUST BE ROOTED IN ARTISTIC DIRECTION AND INSPIRATION, RATHER THAN NECESSITY. A DESIGN THAT MEETS MANDATE 1 AND 2 BUT DOES NOT PUSH THE BOUNDARIES AND LIMITS OF CREATIVITY WILL NOT BE CONSIDERED.

ACCESS


BOYY UP WILL BE UNVEILED FOR THE FIRST TIME ON SEPTEMBER 18TH, 2020, AT THE SIAM PARAGON MALL - A PIVOTAL CENTER OF CULTURE AND COMMERCE IN THE HEART OF BANGKOK'S SHOPPING DISTRICT. 

A PORTION OF PROCEEDS FROM ALL BOYY UP AT SIAM PARAGON SALES WILL GO TO THE RABBIT IN THE MOON FOUNDATION, WHOSE MISSION IS TO SUPPORT AND ENCOURAGE CHILDREN, YOUTH AND SOCIETY TO RECOGNIZE THE IMPORTANCE OF CONSERVATION OF NATURE AND THE ENVIRONMENT.

OPEN TO PUBLIC: FRIDAY SEPTEMBER 18TH, 2020 – TUESDAY JANUARY 5TH, 2021

10AM -10PM DAILY

991 RAMA I RD, M FLOOR, PATHUM WAN, BANGKOK 10330

CONTACT
PHONE: 098-245-4520
FOR PRESS ENQUIRIES PLEASE CONTACT: PRESS@BOYY.COM
FOR GENERAL ENQUIRIES PLEASE CONTACT: POPUPPARAGON@BOYY.COM